Digital transformation is not only important for short-term growth and better market share but it ensures long-term stability and relevancy. Digital ecosystems and Digital platforms are driving efficiency through advanced and unusual collaborations and bring better valuation for businesses and customers. Do you know what is Digital Transformations and its utility in the highly competitive and dynamic business environment?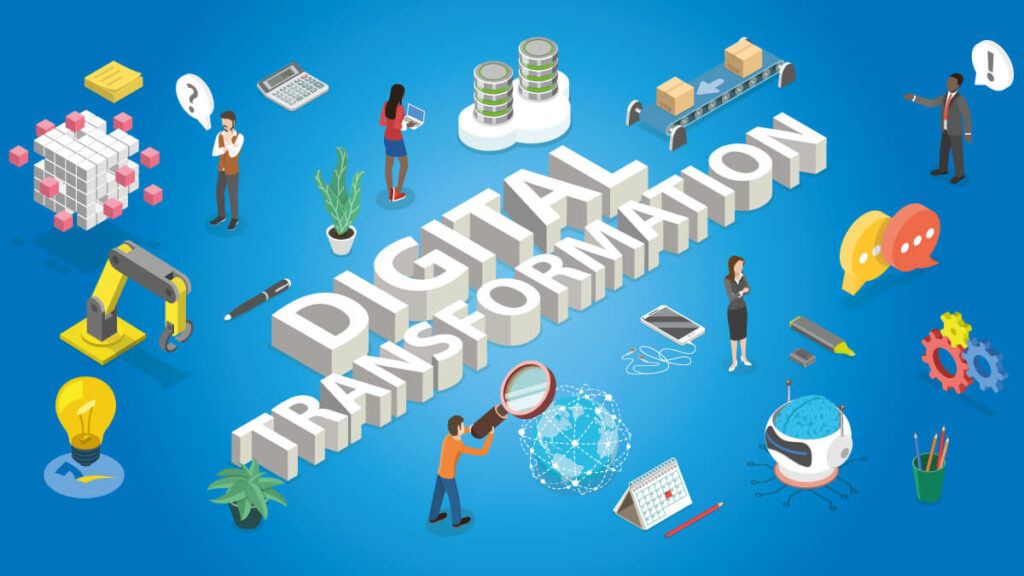 What is Digital Transformation (DT)?
Today, a growing number of business organizations look to digitally transform their respective organizations, so that they would be able to meet the ever-increasing demands and prospects of modern and tech-savvy customers. If you want to make digital transformations successful, businesses and industries will have to adopt agile procedures and practices. Digital Transformations is mostly driven by the changing needs and expectations of the individual customers and because of the customer-centric approach. To implement this approach, you need organizations that are integrated and fluid.
Digital transformation is defined as the process of modification of brand new or existing business procedures, its culture, and customer experience for catering to the change in market and business demands.
Digital Transformations is the comprehensive integration of business and technological innovations to remain engaged to the target audience effectively via digital medium right through varied phases of customer experience. The main objective of DT is to address customer needs effortlessly in sustainable ways.
Digital Transformation, the Global Center is of the view that organizational change is fundamental to digital business transformation. When an organization goes for organizational change, it means the organization looks for a change in work culture, ways of working and changing the mindset, and also the technology it employs. Simultaneously, these efforts bring strong challenges, problems, and also bring rewards by allowing the businesses to become more competitive, data-driven, and agile. Digital Maturity across all industry segments is classified as for beginners, conservatives, and elegant and the digital masters use to blend digital and leadership qualities to drive business transformation.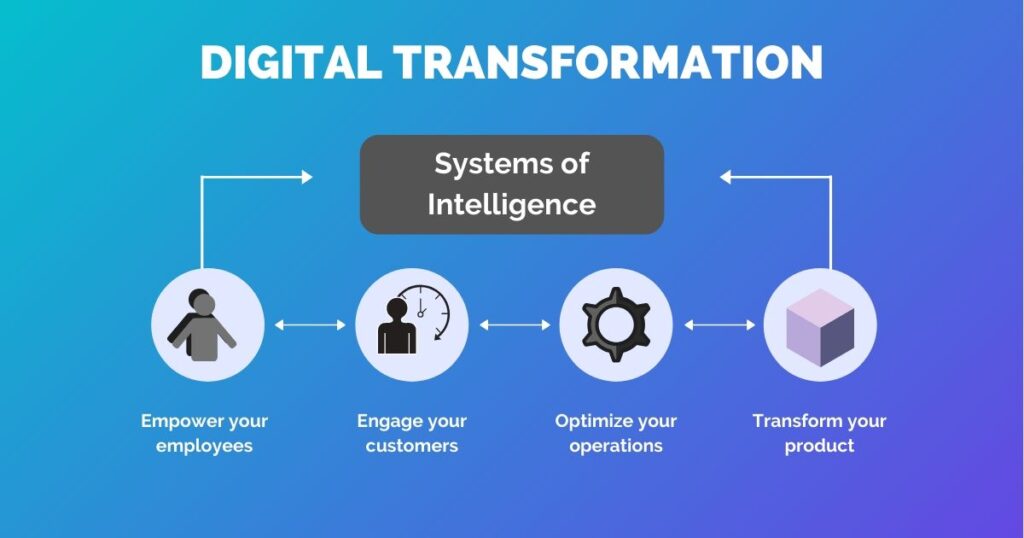 How would you define "Digital" in Digital Transformations?
When you focus on transforming the business at all levels, the technology you would require is to implement digital transformations procedures. You can't bring those changes instantly, it would come with time. But the businesses normally adopt technologies that would help in analyzing and harnessing the large quantity amount of data they store and for that, they get ready for the trends like the Internet of Things (IoT).
It shows that analytical tools cloud computing are always high up in their agenda. Cloud Computing gives organizations the option to store data externally to their data centers. This process focuses on collaborative tools such as file-sharing, apps, and mobile devices that streamline remote working and when there is a need, the information can be accessible wherever possible. This is mostly suited for marketing and salespeople who would forge relationships and would want to interact with the target customers.
Why Digital Transformations are important in Business?
Adoption and implementing Digital Transformation doesn't mean the organizations will get used to whatever technological innovations and tools come their way. Instead, businesses, industries, and other organizations should analyze what digital transformation tools and techniques are most suited for them.
The companies will have to first transform their own core business processes and then shall have to digitalize the client's business processes. They have to integrate the suitable applications, solutions, and platforms that would emerge handy for their work culture, day-to-day operations, and affordability.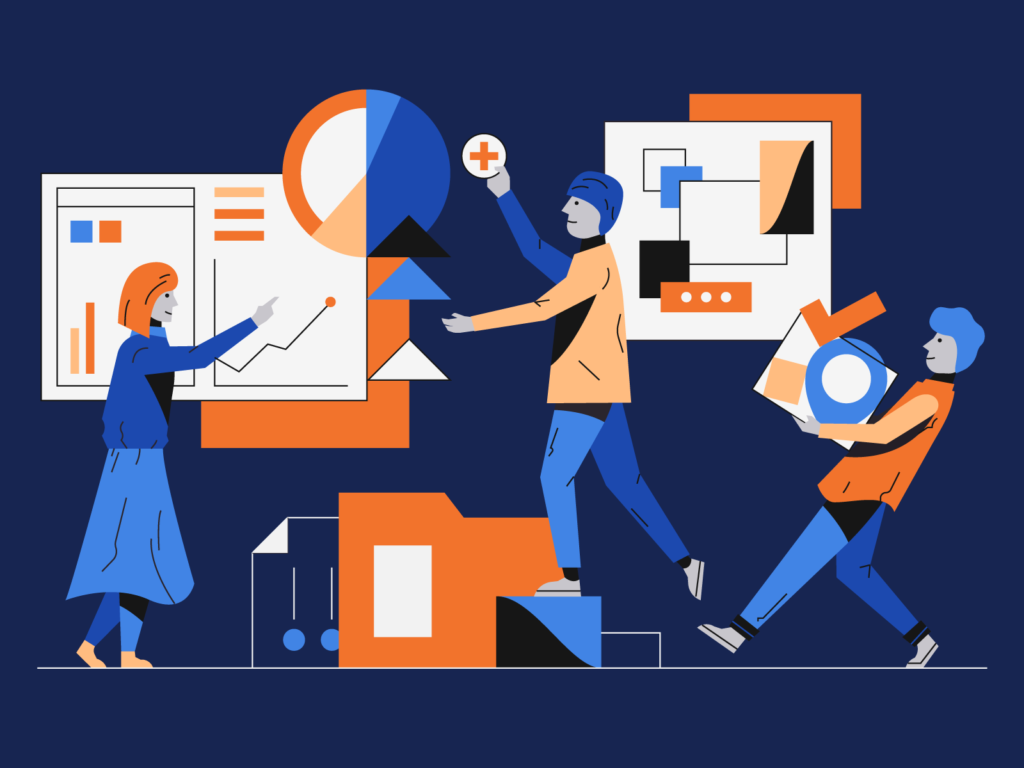 Digital Disruption and Focus on Client
Digital Disruption decides why digital transformations are so vital and useful for society and the public at large. For example, Smartphones created disruption. These wearable technologies are imperative to creating disruptions. Digital transformations are the reason for bringing fundamental changes to the very expectation and behavior to work-culture, industry, market, and processes and can be expressed via digital channels, capabilities, and assets.
Customer-centrism is a ploy where you would meet the demands of the digital age. Here, you would come to know where and how your customers are interacting online and how would you able to meet their expectations on their own turf. This is a time when all businesses will think about digital transformations and the efficiency of digital disruptions.
Types of Digital Transformations
Digital transformation is about integrating digital technology throughout the entire cycle of a brand's business.
Digital technology integration
Operational agility
Customer experience
Culture and leadership
Workforce Initiatives
4 Key Areas of Digital Transformations
Business Process: It is the combination of the brand's audience, processes, and applications. It's the process of transforming the business procedures, services, and business models the company adopts that leverage skills, successes, and opportunities for the team. The process information involves data analytics, processing, and the retrieval of data.
Business Model: Revamping of the business model means the incorporation of technology that will drive high-traffic, greater revenue, and better customer experience. For example, how Netflix transformed itself from the mailbox DVD business to the live streaming service nowadays.
Domain: Domain transformations involve the transition from one area of business to another successfully. For example, Amazon added its own streaming platform Amazon Prime, and Amazon Web Services (AWS).
Cultural/ Organizational: Different organizations use different tools and strategies for bringing everyone to the same page and make them eligible for big changes that could turn out to be challenging. But the effectiveness lies in offering better results to your customers.
Major Digital Transformations Agents
Social Media: The handling of social media is much more inclusive than simply delivering the content to the audience. For example, monitoring of customer interactions, likeness, and response to their queries.
Cloud Computing: The use of SaaS (Software as a Service) and has to be promoted more for integration and team effort.
Remote Accessibility and Mobility: Whether he/she is a customer, vendor, partner, staff or collaborator, he/she can interact with your brand on a mobile or via the internet. This will open up a new range of opportunities for your business.
Big Data: Big Data is the collection of a huge amount of data that use to grow with time. In this case, data is stored by the PaaS provider. There is the availability of Big Data solutions in Freemium or paid models in the market.
IoT: IoT or Internet of Things comprises a number of devices with embedded technology like sensors, buttons, etc. They are capable of connecting to the cloud and transmit data and events.
AI: AI or Artificial Intelligence is the ability of a machine or software to bring a human-like approach and thinking such as the ability to set standards, perception, experiment, and making decisions judiciously. For example, Self-guided cars, cognitive computing, and chatbots.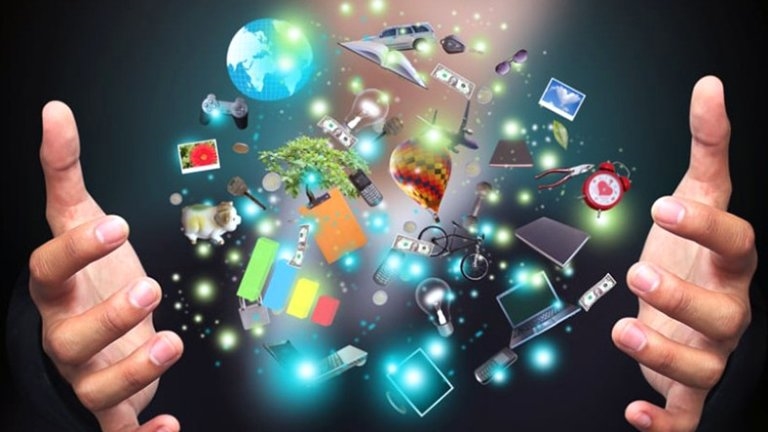 Activators of Digital Transformations
Agile Technology: It seeks to develop the products and services which would deliver exactly the same value that the customers desire.
API Management: APIs are the Internet protocols that enable the continuous flow of interaction and data between various cloud-based tools.
DevOps: It's all about integrating the development teams with other sectors of IT professionals that would offer more quality and agility in the deliverables, bringing greater secured and trustworthy results.
Identity-centric Security: This is designed for giving more security to the use of applications and tools and will have greater reliability to the exchange of information storage.