"Content is King"
"Content is king"- One of the most popular phrases used in digital marketing buzzwords. At a time, customers are becoming more and more tech-savvy and result-oriented; businesses should step up their content marketing tactics to attract, inspire, and engage with their customers and have a better conversion rate. That's why people are desperate to know about Content Marketing Trends for 2018!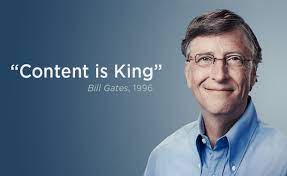 Content has always been the center of attraction of marketing. Nothing can beat the power of words. No doubt content is the simplest, easiest, and most powerful way of connecting to your target audience, creating brand awareness, showcasing your brand's authority, and building trust.
The power of content marketing can be known from the fact that more than 80% of businesses are relying on content marketing to have better branding. There's no qualm in admitting that more and more businesses are going for innovative content marketing policy to climb the ladder.
What's Content Marketing?
Of course, we can put forward a number of reasons why content marketing will remain at the heart of marketing. Do you know what content marketing really is? Does it just really mean anything? Or is it just a buzzword?
Content marketing is one of the crucial aspects of business communication strategy where you focus on creating and distributing valuable, relevant, and consistent content to attract and retain a clearly defined audience. Content has the following three main objectives:
• It engages the reader
• It Increases search engine rankings and traffic
• It promotes the possibility of quality links from other sites
According to one survey, conducted recently, which asked respondents to name one single marketing activity that will make the largest commercial impact in 2018 for your business, content stood at the top of the list with 20%, followed by big data and artificial intelligence & machine learning.
Let's not forget, big data and AI are both driving the types of content that brands are delivering to their customers – in both the B2C and B2B worlds.
Truth is that AI, based on machine learning, watches and analyzes what content users are consuming and engaging with so that they can predict future visits to a website, then serve it up to them.

As full automation is still very away, the time for content and creative writers is to deliver interesting, relevant, and engaging content. Watch out for tone of voice and different conversational styles.
As diverse forms of content are evolving and fine-tuned targeting is developing as the order of the day. These are the following types of content that will rule in B2B marketing activities in 2018. So the content marketing trends for 2018 will be:
1. Video
YouTube, being the second biggest search engine after Google, has reached 1 billion views of videos posted on the platform in 2017, its content can't be ignored.
2. Social Media
Remains the most important way of engaging with your audience in a timely fashion with the likes of Facebook, Instagram, and Twitter. LinkedIn rules in a B2B environment while Google+ is suitable for SEO.
3. Email Marketing
Writing compelling direct marketing campaigns using email is crucial. Making sure your audience clicks to the Newsletter or Email content to your website still remains an effective tool of traffic to your website. But the content should be engaging and click-worthy.
4. Infographics and Visual Media
A picture stands worth a thousand words when you're presenting dry and data-driven concepts. Infographics aid understanding. Virtual reality, walk-rounds, and fly-through are very useful for delivering complex information about products and their benefits.
5. Blogs and Articles
These are one of the powerful ways of establishing thought leadership and allow you to promote specific products and services and help with SEO.
6. Landing Pages
Landing pages are used for lead generation. A landing page determines an advertiser's conversion rate. They are often linked to social media, e-mail campaigns, or search engine marketing campaigns in order to enhance and track their effectiveness over time.
7. Podcasts and Webinars
Broadcasting is very effective for people using mobile devices with limited time to listen to the information being provided. Webinars allow you to deliver complex presentations online and enable visitors from different locations to engage with you simultaneously. It allows interaction between the presenter and the audience through questions and answers.
8. White Papers
This is one of the perfect ways of disseminating complicated information about products and industrial applications, without crowding with sales messages that may irritate your audience.
Content marketing is crucial for consumers
When there's a flood of info on the internet, the customers are becoming more and more demanding for getting good information on the service or product they purchase.
Think of yourself as a customer and you're purchasing a certain service and product, don't you search for price, reviews, or study different products, or compare features.
Awesome and engaging content matters a lot to consumers to make informed decisions, because, good content takes the consumers closer to the product or service or brand.
B. What's the role of content marketing for search engines?
How many users are going to the 2nd page of the Google Search Results? That's one sign of your content marketing strategy and the standard of content fails.
Search Engines-like Google is the easiest and one of the reliable sources of finding answers to the questions for users. Most consumers find info about the services and products they are looking for using search engines.
The businesses that use content marketing usually have an SEO plan in operation. Simultaneously, search engines are inclined to proving more improved services to their customers through continually updating their algorithms to enhance the quality of their search results. Good content and a strong SEO strategy go side by side.
It is not only to identify Google's red flags but create killer content that is both SEO and user-friendly.
Top reasons linked to content marketing trends for 2018
 Content improves brand recognition
 It can build a relationship with customers.
 It's a cost-efficient way to generate leads.
Customized content: Content specifically designed for your customer's queries and concern
Educate & inform: Content should be educative and should contain handy info about your product and service.
Invite influencers: It should attract third parties to share.
 Content influences conversions.
 Customers want more quality content.
 Optimized content improves SEO.
 It keeps you stand out from your competitors.