Content is King and so does Content Marketing. What is content marketing and why there is so much buzz around content marketing these days? Content is immensely important these days because Google is putting heavy emphasis on content. Content marketing is a powerful tool in the digital age to connect to your targeted customer. Content marketing involves various methods of creating and distributing content across several channels. What are the content marketing 2022 trends?
Content marketing is a type of marketing technique that involves the creation and distribution of relevant, valuable, and consistent content so that it will attract and address the targeted audience properly resulting in profitable customer action. As content marketing is central to digital marketing, webmasters and marketers should be aware of the important content marketing 2022 trends.
Content Marketing 2022 Trends
Need for Qualitative, Relevant, and Reliable Content
Greater emphasis on knowing the consumer intent and the content that directly address the audience
Focusing more calibrate Data-driven Content Planning  and Documentation
Must-Use Data Sources for Content Accuracy and Keyword Strategy
The propagation of content in the form of voice, video, and sending visuals through  mobile and social media platforms
Increasing dependency on real-time insights and getting influenced by them while forming content marketing strategies.
Rise in the dynamic content creation and automating the content generation with the use of AI and machine learning.
Fusion of formats such as Augmented Reality Vs Virtual Reality, Audio, and text
Striking the balance between the art and science of storytelling and finding the emotional hooks that make the content 10 times better.
Integrating the Content to Account-Based Marketing (ABM) means close collaboration between sales and marketing and the consumers are more loyal to the seamless transactions. 
Important Content Marketing 2022 trends
Creating a content strategy keeping customer retention in mind
Automation in Content generation using AI and Real-time Data Insights
Optimize your SEO
Creating the podcast
Larger content personalization
Digital Transformation and Content Marketing
Exceptional user experience stands vital to digital transformation (DX or DT). Customer experience and customer satisfaction hold massive importance while implementing a digital transformation strategy as part of an enterprise's decision. Content is the propeller that is not only instrumental in driving sales and marketing but customer engagement.
Digital Business Transformation or Digital transformation varies from organization to organization. It is hard to find a definite definition of DT. Digital transformation is predominantly used in the business context but digital transformation impacts all aspects of life. Digital transformation is not only disruption or technology but also about people, value, optimization, and the capability to rapid adaptation when it's most needed ensuring smart use of technologies and data.
Digital transformation is leveraging technologies so that it will create value and new services for all stakeholders (customers) involved. Subsequently, it will provide the room to innovate and acquire the capabilities for rapid adaptation to changing circumstances. Digital transformation brings organizational, operational, and cultural change to an organization or business with the smart integration of the latest digital technologies, processes, and efficiencies across all levels of functionalities strategically.
These new efficiencies or competencies reinforce the capacity to be more agile, people and customer-centric, innovative, streamlined, competent, and will leverage the opportunities to change the status quo and tap into the big data and IoT emerges as a vital enabler. Digital transformation strategies are seen as immediate. These efforts are found in markets with a high level of commercialization.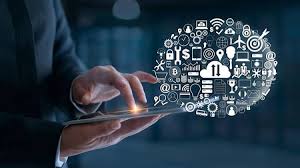 Digital Transformation Areas
Business activities/functions: Sales & Marketing, Operations, HR and Administration, Customer services etc.
Business processes: Business process management, business process automation (for example robotic process automation) and business process optimization (customer- goals and internal goals )
Business models: How do businesses function? Remodeling or complete removal of traditional core business and adopting the go-to-market approach and value proposition so that it will revolutionize the core business and pave the way for profit-making. It also involves tapping into innovative revenue sources and ways.
Business ecosystems: It is network of the organizations that includes suppliers, customers, distributors, government agencies, competitors, government agencies, and others. These things have been based on the fabric of digital transformation, digital disruption and information. Ecosystems and the partnership models is the key to achieving digital transformation success.
Business asset management: Here, the focus lies on traditional assets but there would be more importance on data and customers which would be treated as real assets.
Organizational culture: It involves the processes, business activities, tie-ups and collaboration and IT –side of DT. It is not only operational technologies but the processes, culture, collaboration etc.
Customer, worker and partner approaches: Digital transformation is an arena where people and strategy are given more priority over technology. The changing behavior, demands and expectations of the target audience are crucial.