Sanjay Leela Bhansali's much-awaited film "Padmaavat" is all set to hit the screen on 1st December this year. The film stars Deepika Padukone, Ranveer Singh, Shahid Kapoor, Aditi Rao Hydari, and Jim Sarbh.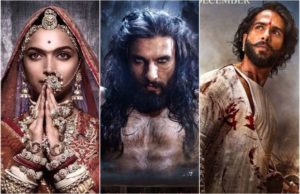 Background Story Of The Film "Padmaavat"
Padmini, also known as Padmavati was one of the most beautiful and well-known Indian queens of the 13th-14th century. Padmavati was extraordinarily beautiful and she was the princess of Singhal kingdom, now Sri Lanka. She was the daughter of Gandharv Sen, the king of the Singhal kingdom. Padmavati was extremely close to a talking parrot named Hiraman. Her father was against this intimacy and ordered the parrot to be killed. The parrot flew away before being killed but caught by a bird catcher and was sold to a Brahmin. The Brahmin brought the parrot to Chittor and gave it to Ratan-Sen, the Rajput ruler of Chittor. The parrot described the beauty of Padmavati before Ratan Sen that made Ratan Sen determined to marry Padmavati. Being escorted by the parrot Hiraman, Ratan Sen moved to Singhal with his 16,000 strong supporters. Ratan-Sen and his followers attacked the royal fortress of Singhal kingdom. They were defeated and imprisoned. When Ratan Sen was about to be hanged, the parrot told that he is the king of Chittor. Then, Gandharv Sen gave the hand of Padmavati to Ratan Sen. Alauddin Khalji, the Sultan of Delhi heard about Padmavati's beauty and attacked Chittor to marry her but failed. Devpal, the king of Kumbhalner, the neighbor state of Chittor got lured by the beauty of Padmini and attacked Chittor. Both Ratan Sen and Devpal killed each other. Seeing this as an opportunity, Alauddin Khalji again came to Chittor, before being captured by Khalji, Padmavati and her companions committed self-immolation to protect their honor.