One Game and Billion Lovers!
Wankhede ODI match between India and Australia in 1996, Mumbai witnessed a strange situation, a girl arrived at Wankhede leaving her marriage ceremony midway wearing her traditional marriage dress to marry Ajay Jadeja or in 1980s, the test match between India-Pak saw a similar situation of a woman cricket fan, having got an opportunity to shake hands with Imran Khan and the women didn't do anything for three days with the hand she handshake with Imran or Bangalore city came to an halt on the day of India-Pakistan 1996 world quarter final match.
Why this is happening? What brings such craziness for Cricket in India? Why Indian people are mad about Cricket and Cricket players? Do you have any answer?
Invention of Cricket
Nobody has clear idea of how cricket started, nor there's any evidence to support for a particular theory, but it's believed that Cricket came into existence during Saxon or Norman times by children living in the Weald, densely forested area in south-east England, lies across Kent and Sussex. During medieval times, the inhabitants of the Weald were small farmers and metal-working communities. Many believe that the cricket game of cricket was confined to only children for centuries, later on it was started to be dominated by adults around the beginning of the 17th century.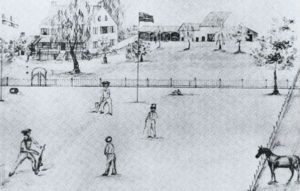 What's the meaning of "Cricket"? How was the term "cricket" invented? One of the earliest terms that could be found similar to Cricket in sports, way back in 1598 is "creckett". This term could have sourced from the Middle Dutch "rick" meaning a stick or the English term "cricc"or "cryce" meaning a crutch or staff.
Cricket came to North America by English colonialists in 17th century, later on in 18th century it started to move to the other parts of the world. British colonialists introduced cricket to West Indies and to India, it was brought by East India Company in the first half of the 19th century. The game came to Australia in 1788, Australia in 1788, when colonization began; next to follow was New Zealand and South Africa in the early years of the 19th century. The basic accessories and ingredients of cricket such as bat, ball, the wicket, pitch, over, outs etc. could have existed since its inception.
Cricket lovers would be astonished to know that the first ever international cricket was played between USA and Canada in 1844 at St George's Cricket club in New York. The first ever English team came to North America in 1859 on the first-ever overseas tour and in 1862, the first English team toured Australia. The first Australian cricket team to have toured to England was a team of aborigines in May 1868.
One of the major turnaround came in the history of cricket in 1890 when the official County Championships was formed in England. The same organizational format was also followed in other cricket playing nations such as the Sheffield Shield of Australia in 1892–93, Currie Cup in South Africa, the Plunkett Shield in New Zealand and the Ranji Trophy in India.
Between 1890-1914, game of the cricket was being played according to the spirit of the game and having lots of fun memories, being regarded as the Golden Age of Cricket, featuring numerous great names such as WG Grace, Wilfred Rhodes, C B Fry, K S RanjitsinhiiK and victor Trumper. Because, it was relatively peace time period, run up to 1st world war.
Cricket and India
British people brought Industrialization and Colonialism to India along with Cricket and used it as a tool find rapport with Indian people and spreading English ideas.
British colonialists first lived in cities like Calcutta, Bombay and Madras and their lifestyle was distinctly different from Indian lifestyle. When Cricket was started in India, it was limited to the Quadrangular and Pentangular tournaments first played in Bombay in the early 20thcentury. Parsi merchants were first to adopt cricket in late 19th century, followed by Hindus and Muslims.
The Quadrangular tournaments in Bombay were organized among English, Hindu, Parsi, and Muslim teams. Later, they turned Pentangular, the fifth team being known as 'All the Rest,' comprising of Christians, Buddhists and Jews. By 1920-30, the tournaments attracted much public support and being attended by 20,000 fans.
In the mid 1940s, the tournament was stopped because; some found it deeply divisive on religious lines and other feel those then officials of Board of Control for Cricket in India(BCCI) put pressure on Govt. to stop them, as it was more popular among people than the Ranji Trophy which it was organizing.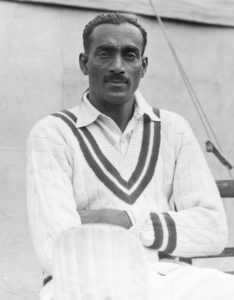 Cast related issues are always said to have played a dominant role in Indian society. How can Cricket be stayed from this? There was beautiful incident related to untouchability in Indian cricket. In the early days of Indian cricket, there was a player, named "Baloo". Though his teammates play alongside him inside the field, they were avoiding to eat with him in the dressing room. Baloo had to stay away from them during lunch and tea break. The problem was Baloo's caste.
Parsi people, the trader's community in India was the first to take up cricket. That was not for fun, but an attempt to have good relationship with then English rulers. Of course, that scenario is no more. During freedom struggle, native and patriotic Indians viewed Cricket as the game of colonialists and bore strong grudge against it. At that time, Cricket was confined to only rich, royal and upper caste people because of their social, political and financial interest.
First Foreign Cricket Team on Tour to India
England team, led by Arthur Gilligan was the first team to have toured to India in 1928 and played two matches with Hindu Indian cricket team. At that time, Britishers were playing cricket separately with Hindus, Muslims and other religions, a nice-looking strategy being adopted by them to break the communal harmony. But when C. K. Naidu scored 154 runs, hitting 16 sixes against them, Naidu became a household-name overnight and an impact was made that Indians could hit the ball stronger than Britishers.
Under CK Naidu, the first Indian cricket team had toured to England in 1932 and became the sixth nation after England, Australia, South Africa, West Indies and New Zealand to have played match at Lord's. Seven test matches that India played were all against England in the pre-second world war time, lost 5 and drawn 2. Next time India played against any opposition was Australia in 1947-49. Have you ever thought of the family background of players who had toured to England in 1932 under CK Naidu? Most of them were from ordinary family, including Naidu. The same can be said about the first Indian World Cup winning team led by Kapil Dev in 1983. Nobody was from a very rich or renowned background.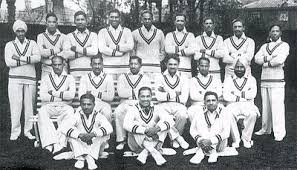 India's first ever Test match victory came against England at Chennai in 1952. First ever series win by India happened in 1952 against Pakistan and subsequently, drawn a 5 match test series against Pak 0-0 in 1954. The major contributions came from Polly Umrigar and Vijay Manjreka in batting and in bowling; it was Subhash Gupte chip in with 21 wickets in the series.
India first test series played against New Zealand in 1956 and ended up winning the series with a 2-0. M.H. Mankad was brilliant in scoring 526 runs in that series with an average of 105.2 and bowling was again dominated by Subash Gupte who took 34 crucial wickets. Of course, the later part of 1950s was not good as compared to earlier part: India lost 3-Test match series to Australia (2-0), lost a 5-Test series against the West Indies (3-0) and 5-0 battering defeat at the hands of England, and subsequently lost to strong Australian side (2-1).
More  to follow…….